Accurate Inspections & Monitoring (AIM) was founded in College Station, Texas in 2003 by Dub and Carla Woods. Dub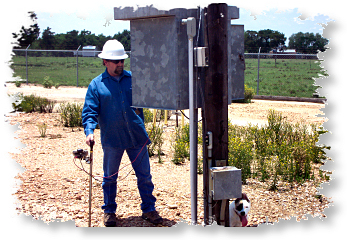 has over 20 years of extensive pipeline operations and compliance experience. His experience is partly due to previous work with TXU, a Texas pipeline company. Carla has over 16 years of customer service and administration experience. Their sons Matthew and Marcus, both graduates of Texas A&M University, are instrumental in building the AIM business.
As a result of moving to Leander, Texas to pursue a career with American Innovations (AI) as the PCS Technical Services Manager, Dub saw the need for a full-service provider of AI products and business solution concepts. The family business has grown and continues to be successful. AIM is a premier channel partner and reseller of American Innovations products and business solutions for the oil & gas, utility, and water/wastewater industries.
In addition to providing quality cathodic protection products and services, safety is equally important to AIM. AIM is a safety-conscious company that believes safety is #1 and first on the agenda for their staff, customers, and the public.